Bathroom Renovation and Remodeling Trends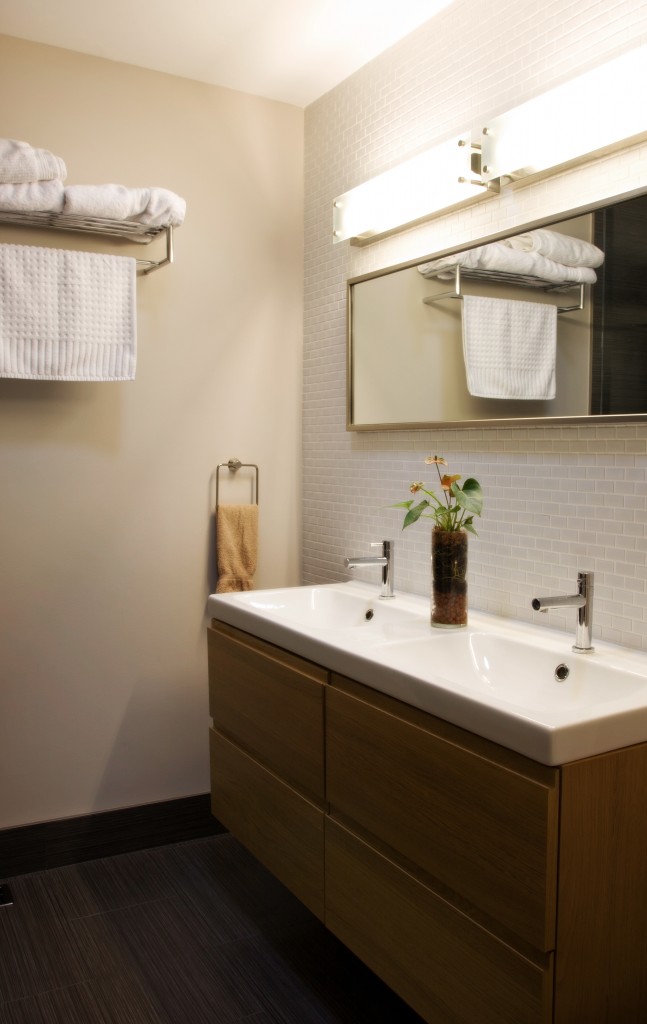 Home construction and renovation continues to evolve, as product, trend and lifestyle changes influence the design of our living spaces. At Inspire Homes, we renovate more bathrooms than any other room in the house, and we have compiled a list of the most significant trends we're seeing in bathroom design. We hope this gives you some ideas for your next bathroom renovation project.
Bathtub to Shower Conversion
By far the leading trend is the removal of bathtubs, and the conversion of the space into a shower. This is especially popular in the master ensuite bathroom – where many homes from the 1980s have a standard size master bathroom with a tub, toilet and vanity. The shower conversion is often complemented by spa like features such as body jets or a rain shower. And a frameless glass shower enclosure is always the finishing piece.
Larger Showers
Showers are growing in size. The days of putting in a 30 inch by 30 inch corner shower unit are over. Today's showers are custom built to maximize the space. If space permits, it is not unusual for us to build a shower 4 feet by 5 feet in size.  Larger showers have space for a bench, and often multiple shower heads.
Heated Floors
Following tub to shower conversions, heated floors are the next most requested bathroom feature. Nothing beats stepping out of the shower onto a warm floor, or standing on a warm floor while shaving or brushing your teeth. Heated floors can be operated by a programmable thermostat, set to come on in the morning, and again in the evening – the usual times the bathroom is in use – while reducing energy consumption during mid-day and nighttime hours when the bathroom is typically not in use.
Remove the Jacuzzi
Eliminating the Jacuzzi tub, in favour of a larger shower or a soaker tub without jets is another frequent request. Few homeowners have the time to soak in a tub, and when they do, they're looking for peace and serenity, not the sound of a motor pumping water through the jets. For every Jacuzzi tub we install, we're removing somewhere between five to ten Jacuzzi tubs. A Jacuzzi tub typically operates on a dedicated electrical circuit, and removing it frees up the circuit for in-demand items such as in-floor heat, and additional lighting.
Contemporary Finishes
Contemporary finishes are growing in popularity, and the majority of the bathrooms we build and renovate feature at least some contemporary finishes. Contemporary design features include clean lines, polished and smooth surfaces, and minimal intricate details. The idea that less is more, results in a comfortable and spacious space, free of clutter.
Heated Towel Bars
And finally, we'll mention heated towel bars.  We've installed two of these in Toronto bathroom renovations in the past few months, and we have another install in Mississauga coming up shortly. We're not sure if this qualifies as a trend, but it is another luxury feature – at a fairly reasonable cost.