10 Kitchen Trends That Are Not Going Away
Kitchen design trends come and go (and sometimes circle back), but many have staying power. If you are planning a renovation, here are 10 trends that will make you love your kitchen for years to come.
Shaker door cabinetry
Shaker doors offer a clean aesthetic with a blend of traditional and contemporary styles. Because of this simplicity, they are easy to incorporate into any design, are economical and offer a timeless appeal.
Traditional shaker cabinet doors in this Mississauga house addition project.
Painted cabinetry
Painted cabinetry adds personality to your kitchen. Neutral palettes, like white and grey, are ageless, but you can also customize your island with a different colour to achieve a stylish two-toned look.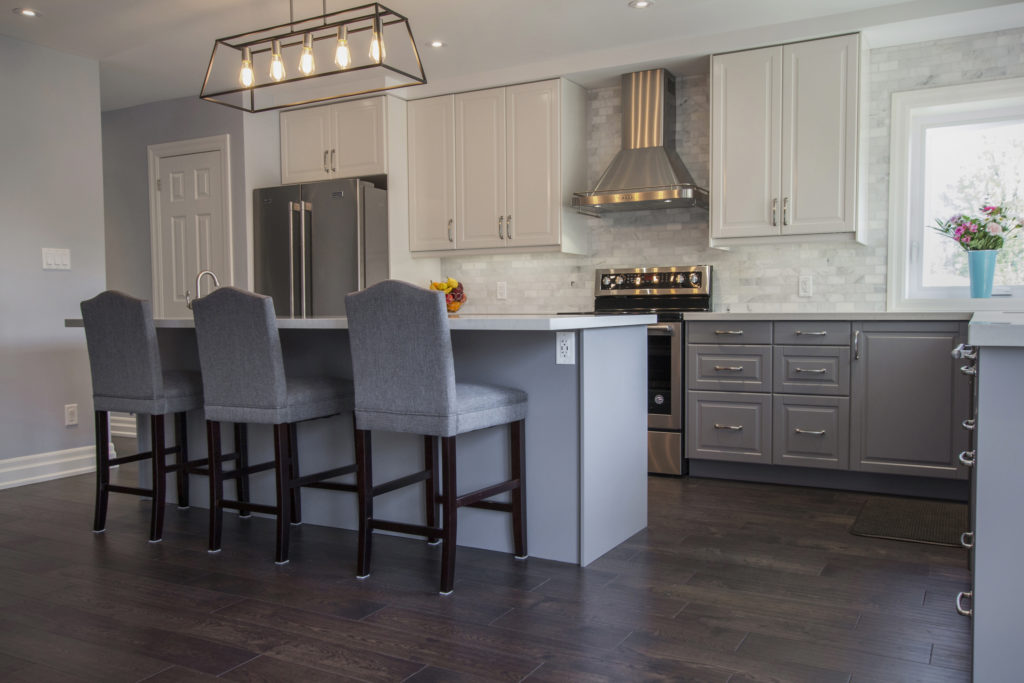 Painted cabinets - white uppers, grey lowers in this Rexdale house addition project.
Kitchen islands with casual seating
Kitchen islands are being designed with counter-height seating, creating a casual dining space where meals are prepared. Over the years, island size has also increased to make them more multi-functional for everyday life.
Large kitchen island with seating, in a Markland Woods kitchen renovation project.
Open concept living spaces
Open concept living spaces aren't falling to the wayside. Most main floor renovations still involve the removal of walls, allowing families to cook, eat and relax in one large space.
Open concept living space.  Richmond Hill house addition.
Hardwood flooring
Hardwood flooring remains the preferred flooring type in homes. They are stylish, warm and durable with minimal upkeep, plus you can choose finishes, sheens, textures and wood types to suit your lifestyle.
Hickory hardwood floors give character to this Schomberg renovation.
Solid surface countertops
Solid surface countertops are here to stay – even budget kitchen renovations want quartz! Unlike granite, which is porous and needs regular upkeep, quartz offers the same look with endless colour options, but with less cost and maintenance.
Quartz countertop in  a Mississauga condo renovation.
Cabinetry with handles versus knobs
Many kitchen designs are incorporating handles instead of knobs for a cleaner, modern aesthetic. Larger handles are also more functional on cabinet pantry doors and appliance panel surrounds compared to smaller knobs.
Cabinets with handles.  Markland Woods house addition.
Multiple lighting options
You can never have too much lighting in a kitchen! From pot lights and pendant lights to under cabinet lighting or task lights, having a varied and functional lighting design never goes out of style.
Pot lights, pendant lights, and under cabinet lights.  Toronto kitchen renovation.
Incorporating pantry cabinets into kitchens
A pantry cabinet is an excellent way to incorporate extra storage into a kitchen. Unlike traditional walk-in-style pantries that require more floor space, cabinet-style pantries can be worked into most kitchen designs. They can also be customized with roll-out drawers or shelves and other internal cabinetry components to maximize their potential.
Pantry.  Markland Woods kitchen renovation.
Counter-depth refrigerators
Counter-depth refrigerators offer a seamless look since they stand flush with cabinetry. If you can't accommodate this type of fridge, there are ways to visually integrate a standard-depth refrigerator with a custom built-in surround.
Built-in fridge.  Etobicoke kitchen renovation.
Want to see more pictures of awesome kitchen projects?
View our Kitchen Project Gallery.